As requested by our users, we have added new per-service options in Accudemia.
The first of the options allows you to keep a waiting line in the center only for certain services. For example, if you offer tutoring but also let students study by themselves, you might want to have a waiting line for those who require a tutor to be available. However those who are going to study without help can sign-in without delay.
The second addition is the option to hide a service from the suggestions when creating a new appointment. Some services might not be available for appointments and now you can simplify the new appointment screen by hiding them.
To edit those options, go to your center details under Centers & Classrooms and click on the Services tab: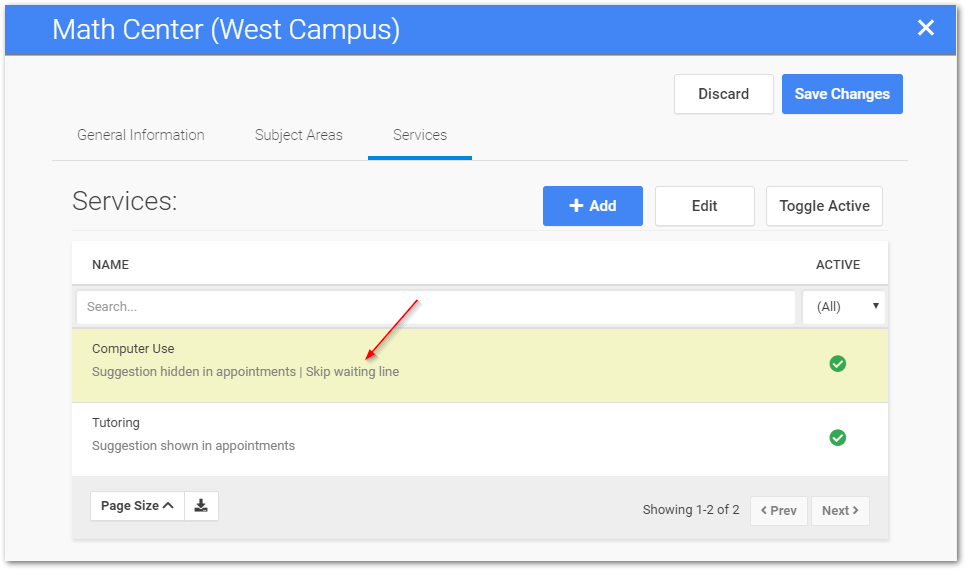 Then, when you add or edit a service, you'll see both options available:
If you haven't migrated to Accudemia 7.0 yet, you won't see the "Hide suggestions from new appointment screen" option, since that only applies to the latest Accudemia version.
Both options will be unchecked by default, which means all students will be sent to the waiting line regardless of what service they select (if enabled in that center), and all services will be suggested when you create a new appointment.
Please note that hiding the service suggestion will only hide it, which means that users using other screens (such as the Manual/Admin mode) will still be able to create appointments for that service.
Also, don't forget to check other updates we have been adding in the
full changelog
.